Search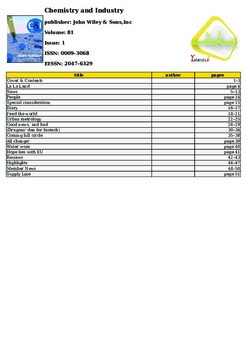 Chemistry and Industry
ISSN:

0009-3068
Publisher:

Wiley-Blackwell Publishing Ltd.
Type:

Ejournals
Language:

English
Peiority:

Monthly
Subject(s):

Chemistry, Biology - Biotechnology, Pharmacy And Pharmacology, Engineering - Chemical Engineering
Subject(s):

شیمی، مهندسی شیمی، زیست شناسی، زیست فناوری
Description:

Bridges the gap between scientific innovation and business. A current-awareness source for scientists, tailored to industry needs and interests. It covers patents, people (e.g., high-level corporate recruitment), and includes reviews and commentary.More ...
Now showing items 1-1 of 1